Animals and kids get ready for the fair
Posted:
Updated: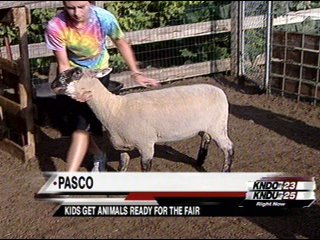 PASCO, Wash - We are only days away from the Benton Franklin Fair and Rodeo, which makes this a busy time for local kids in the 4-H program. Some have been getting up early every morning over their summer break to get their animals ready to show in the fair.
Coralling their lambs so they can go through their daily preparations is a task the Loller kids from Pasco have been used to for the last few months. They do this with the 4-h program which stands for head, heart, hands and health. In caring for the animals, 17-year-old Jordan Lollar, her 14-year-old sister and 11-year-old brother learn life lessons.
"We have a lot of responsibility and it makes you who you are, using 4-H. So we're out here every single day and we know what we need to do and now we need to do it. So we are getting a lot of responsibility out of it," explains Lollar.
On top of feeding the lambs just the right amount of food every day, the Loller's also make sure the animals are looking their best. Right before the fair they will be bathed using the laundry detergent 'Woolite' and they will also have their hooves polished and their ears cleaned.
Not only do the Lollers have to worry about how the lambs look, they actually have to make sure they're well trained too.
"They have to be trained so you can touch them and the judge will come up to them and feel them and if they jump or move you get docked on that," says Lollar.
The judges at the fair will be looking for how well the lambs walk with their owners and if the animals feet can be moved easily into different positions.
The Lollars are hoping they'll receive blue ribbons from the judges and a high rank. They'll then get bid on the animals and there hard work will have payed off.
Opening day for the Benton Franklin Fair and Rodeo kicks is Tuesday, August 25th and it lasts through Sunday, August 30th.