Kennewick School will making a temporary move
Posted:
Updated: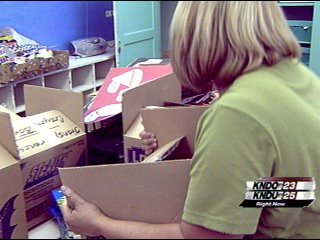 KENNEWICK, Wash. - Several Kennewick schools are having to make a difficult and temporary change in locations, and it's all thanks to Kennewick voters.
Voters passed a bond last year to allow four Kennewick schools to be renovated.
Canyon View Elementary is the first school to get the make over. During this year's construction, teachers, staff and students will stay at the Fruitland building next to Kennewick High, a move that doesn't come with out it's challenges.
"I just feel overwhelmed, we've got so much to do and I feel a little bit behind," said 3rd Grade Teacher Toni Chapman.
The library alone has over 16,000 books to relocate into a space half the size as before.
The condition of the building has much to be desired. Built back in the 1940's, it's in just as much need of repair as the schools getting a makeover.
"Some of the rooms our kids are moving into haven't been ready for kids in a while," said Canyon View Principal Mark Stephens.
It's safe to say the electrical wiring and plumbing were not up to standard for the amount of people who will use the building over the next few years. Plumbers and electricians have given the building a complete overhaul in repairs.
And with the first day of school fast approaching, teachers are working long hours to get the job done.
"Everyday I see new growth in the building. Hallways are cleaning up, classrooms are looking like true classrooms, not storage spaces," said Principal Stephens.
Southgate Elementary, Sunset View and Cascade Elementary will all have their turn at the Fruitland building.