Diamondbacks hold tryouts for Valley ballplayers
Posted:
Updated: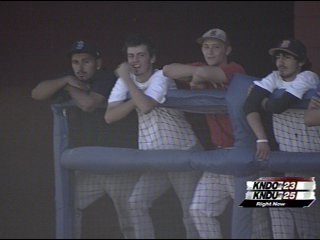 YAKIMA--The valley's great weather allows our young baseball players to get out on the diamond more than other areas.
Wednesday, two scouts from the Arizona Diamondbacks held tryouts for ballplayers between 16 and 22-years-old to see if that extra practice is paying off.
[Davis] Pirates, [Yakima Pepsi] Beetles and [Selah] Vikings all took the field at Yakima County Stadium, hoping to become Diamondbacks, and trying to stand out with their feet and their arms.
The youngest guys might have the best shot.
"The 16 year-olds are probably the most important ones here," Diamondbacks Northwest Region Scout Jim Dedrick said. "[We need] to identify them at a young age."
Dedrick didn't sign anyone from Wednesday's tryouts. Rather, he's looking for players who *catch* his attention.
"Usually, we start identifying players at 16 and put them in our system and follow them through their senior year in high school," Dedrick said. "You do miss players and it's one of the reasons we come out here so no one gets missed."
While scouts grade players on speed, gloves and their throwing arms, the most important thing for is what these guys do with a bat in their hands.
If you're a pitcher, you'd better bring the heat.
Davis High alum and Dominican Republic native Saby Martinez stood out on the hill. One scout thinks his fastball, which hit 89 miles per hour consistently, is major league ready right now.
But...
"The [scouts] told me that I need to work a little bit more on my changeup, curveball, and changing speed," Martinez said. "I will do it."
At 21, Martinez might be running out of time. He's got one more season at Yakima Valley Community College to work on that breaking ball.
Twenty players tried out. This is the first time the Diamondbacks have held tryouts in Yakima, but the scouts will be back every year from now on.