Second dump site found on Grandview farm
Posted:
Updated: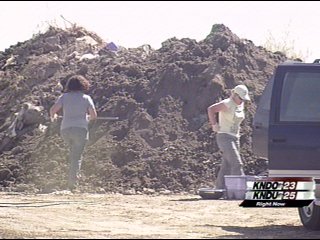 GRANDVIEW, Wash-- More chemicals have been found buried in the ground on a Grandview farm. The dump site is on Double H Farm's property, it's tucked behind a red barn, a vineyard, and some cornfields, out of site.
The Environmental Protection Agency was going to let KNDO cameras near the dumpsite Wednesday, however the property owners attorney intervened.
News of the first large pesticide burial in Grandview broke back in March, that one is called Site A.
Now, more digging led investigators to another dump site. Contractors pulled even more hazards from this one, Site B.
50 five gallon oil containers,
20 aerosol brake cleaner cans,
24 lead-acid batteries,
Two engine blocks,
A lawnmower and other garbage.
The question for the EPA, is the soil and groundwater now contaminated?

The property owner is responsible financially for cleaning up the mess. But, it's not an admission of dumping. And they won't be fined unless nearby groundwater is contaminated.
"I think it's kind of ridiculous that they didn't actually just dispose of things properly...I mean half the stuff could have been disposed of for free," said Storm Shea, Grandview resident.
The Department of Ecology and the EPA have been overseeing the clean-up. Tests of wells around Site A turned up no contamination. Investigators will now sample both water and soil at Site B.
"Part of the delay is while we get so far we have to sample the soils to see what contamination levels are there and how we can dispose of them," said Andy Smith, on scene coordinator, EPA.
Monitoring wells will be placed around Site B to test the groundwater. Smith thinks clean-up should be done in around a month or so.