Largest solar farm in the U.S. will be constructed in Cle Elum
Posted:
Updated: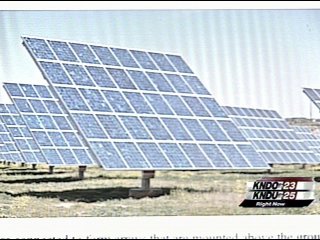 CLE ELUM, Wash.- Cle Elum will soon be home to the second largest solar reserve in the world. The solar panel will provide energy to people who live in the area to as far south as California.
The Teanaway Solar Reserve will be located northeast of Cle Elum. Project employees will install 400,000 panels across over 900 acres of land, producing 75 megawatts.
"We have to come up with ways to control our energy destiny and solar is a great way to do it is works everywhere, the west side, the east side," said Howard Trott, the project director.
To keep construction moving quickly, panels will be installed on top of tree stumps. Project managers say this location was ideal because there are already electricity lines, there are 300 days of sunshine and the thousands of trees minimize any disruptions for people living close by.
"It was logged for so there's a row of trees left around it so we have a great natural buffer," said Trott.
These panels will save businesses and families thousands of dollars in energy. The project is also providing 225 temporary jobs for construction and at least 35 permanent ones. People in Cle Elum say they're in full support.
"It's just being sold to big companies on the grid we're going to see them used on our own building and things that are built in our community," said Cheri Marusa, who lives in Cle Elum.
With tax incentives for people who use solar energy, project directors say they hope to see many homeowners switch to these panels. So far, people seem interested.
"We burned wood heat for many years in these small rural communities so may we'll be transition to solar fuels ourselves, we'll have a win, win all around," said Marusa.
Project managers submitted an application for permits to begin construction. If all goes well, employees say they hope to begin the project by the end of the year.