New Yakima Superintendent wants to prioritize literacy and math at school
Posted:
Updated: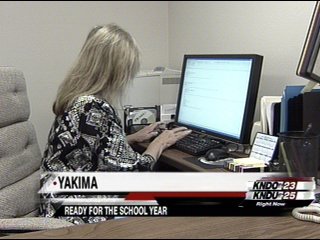 YAKIMA, Wash.- New Yakima Superintendent Dr. Elaine Beraza is six weeks into the job and staying busy preparing for this school year.
Dr. Elaine Beraza is making calls and sending out emails, getting ready for her first school year in Yakima. She says she's getting to know the staff and already has some priorities set out.
"Making sure very child is a reader and a writer, that's something that you need to succeed 85 percent of what happens comes through print material," said Dr. Beraza.
Math is another one of her goals. Dr. Beraza says she wants Yakima students to apply what they learn in class elsewhere.
"In America it is perfectly acceptable for kids to say well I'm not good at math or I can't balance my check book and we don't go oh, wow, but in fact every child needs problem solving abilities," said Dr. Beraza.
To learn about the needs of each school, Dr. Beraza has been visiting the schools and meeting with principals. She says she has two left to go.
What she wants to see change is the involvement between students, parents and staff.
"Your first teacher was your mother and your father and we have to really work hard with our community to make sure they feel they're a part of this process and that our parents in fact feel welcomed," said Dr. Beraza.
Another concern she has is the budget and that's not the only challenge. School Board President Vickie Ybarra says she's confident Dr. Beraza will be able to tackle important issues that Yakima schools face.
"Helping low incomes children succeed, helping larger systems move...and to working with large workforces, she's done all of that and she'll bring extremely good expertise," said Ybarra.
Dr. Beraza, staff and school board members are meeting Friday to prepare for the school year.