Fire leaves single mom and kids with nowhere to go
Posted:
Updated: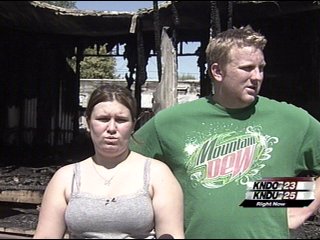 UNION GAP--A Wednesday night fire in Union Gap did more than destroy a mobile home. It left a mother and her four kids with nowhere to go.
Linda Pulliam had just left her house to go school shopping with her kids when she got a call that changed her life.
"My mom called and said, 'your house is on fire,' [and I said] 'What?! You're playing a joke on me, there's no way!'" Pulliam said. "I came back and it was just all in flames."
Pulliam's daughter, Stephanie Vaught, was in Selah with her boyfriend when she found out.
"When we got here he dropped me off a couple houses down," Vaught said. "I just came running to the house, make sure no one was here."
Firefighters say it only took about 30 minutes for flames to destroy the house.
But, Linda and her family say the house isn't the biggest loss. Rather, it's the old Christmas presents, the old homework assignments, the memories that are now gone.
Now, they're just trying to pick up the pieces.
"Right over here was the kitchen table," Pulliam said.
"It's pretty hard," Vaught said. "This is your house and everything you have. Your life is in your house."
Investigators think the fire started here in the power box. But, no one knows where it'll end.
"I took like $98 with us to go get school supplies," Pulliam said. "[Now, it's] really all I have."
"It's scary, you know," Vaught said. "You just don't think something like this can happen to you until it does."
The Red Cross put the family up in a hotel for a few days. But, once that runs out, they'll have to stay at the Union Gospel Mission.
Pulliam has bad arthritis and can't work. She also does not have renter's insurance.
If you want to help, contact the Red Cross at 509-457-1690, or you can reach Pulliam's family at 509-388-0639.