Brush Fire Burns Down Bridge and Closes Highway 241 in Yakima and Benton County
Posted:
Updated: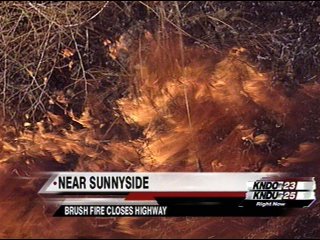 YAKIMA, Wash.- Firefighters are working three brushfires on the border of Yakima and Benton County. The largest one on the Rattle Snake Hills closed down State Route 241.
Thursday night's lightning started the brush fire alongside Highway 241, filling the sky with clouds of smoke. From the highway, you can see flames sparking spontaneously. Firefighters say Friday's weather is working against them.
"We're hot, dry and we've been under red flag for unstable atmosphere, low humidity and winds so we're battling all of that," said Fire Operating Chief Bob Gear.
Firefighters say they're still trying to estimate how many acres are burning. To battle these flames, crews were called in from Yakima, Benton, Franklin and Walla Walla County.
"We're in the process of getting around the fire, the west side is backing against the wind so its not making any large moves but its just not containable right now," said Gear.
While there may not be any homes threatened now, the fire has moved on to the road. Firefighters put up a sign, closing down the highway because the bridge is on fire, forcing trucks and cars to turn around.
"Now I got to go back all the way through the Sunnyside area veer around and go over that way," said Janel Estey, who uses this route to get home.
The 241 bridge over Dry Creek is now completely destroyed. Janel Estey says she's facing a two-hour delay home and is surprised to see the highway this way.
"It's the first time in 10 years we've been going on this route," said Estey.
Firefighters say they have contained about 20 percent of the brush fire, but don't know how long it will take to completely control the burn. Two smaller brush fires within five miles away are pretty much contained. Firefighters say if you're in the area, you should expect delays and road closures for the next few days.