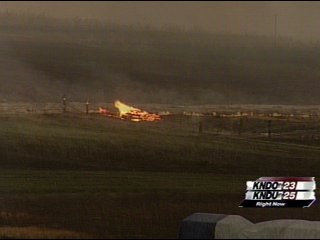 KENNEWICK, Wash. - A fire off I-82 near Thompson Hill came very close to a small Kennewick neighborhood.
The fire is contained, and firefighters will remain on the scene overnight as a precaution.
An entire neighborhood was threatened and inundated with smoke, some even evacuated their homes. People either willingly evacuated their homes, or the smoke forced them out.
"It's pretty bad, it's inundating our house and everything. It's not looking good," said John Shultz.
All firefighters available who weren't already fighting other fires were there. With just one road, access was difficult.
The fire burned part of an orchard along with a small haystack and about 1,000 acres of cheat grass. To prevent it from spreading further, firefighters decided to fight fire with fire.
"The crews up here on the North end on Thompson Hill did an excellent job lighting the fire and bringing the fire down the hill and burning that fuel back into the main fire," said Captain Jeff Ripley with Benton County Fire District 1.
The technique created a wall in the fires path but left a the sky contaminated with smoke. Benton County Emergency Services is asking anyone with respiratory illnesses, the elderly and young children to stay in doors until the smoke clears.