Highways opened after brush fires
Posted:
Updated: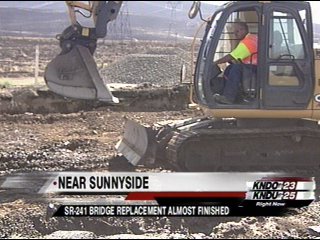 NEAR SUNNYSIDE--The fires made traveling on routes 24 and 241 nearly impossible this weekend, but with the work week starting again we have some good news.
Commuters were looking at long detours if those roads remained closed, but the Department of Transportation opened State Route 24 to traffic shortly before midnight Saturday.
A DOT crew worked all through the weekend to bridge a 20-yard gap in the road after flames destroyed the wooden bridge Friday.
That stretch is all gravel right now, so DOT may lower the speed limit there.
If you use 24, 241 or SR-240 to get to work, make sure you give yourself plenty of time tomorrow morning.
"There may be some delays as far as slowdown goes because we're trying to pave over that bridge that was burnt down," DOT spokesperson Meagan McFadden said. "[SR-241] may be taken down to one lane, so people will run into some delays."
McFadden expects workers to start paving the road Monday.
They hope to have the highway fully open by later this week.
Even with the roads open, drivers need to watch out for fire crews along all three state routes.
The roads could close again if smoke from the fire gets too thick to drive safely.
That's not expected to happen, but you'll need to keep an eye on conditions. If the roads close there is no quick detour; drivers will just have to go around.