Community helps local family with cancer treatment costs
Posted:
Updated: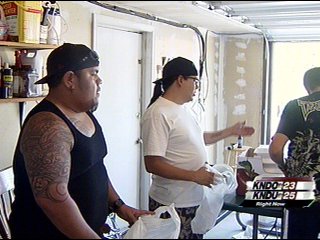 KENNEWICK, Wash.-- It's an ordeal no family should have to go through, but the Wetmore's of Kennewick are faced with their father having throat cancer. The family has insurance, but still have no idea how much treating the cancer will cost. That's when friends and family helped ease the burden.
"Probably my husband can't ever talk again," said Rob's Wetmore's wife, Cia. "You know it's hard. The whole thing is hard."
It was over a year ago Rob Wetmore quit smoking and chewing tobacco. But recently he was diagnosed with throat cancer, the result of an addiction to tobacco since he was fourteen. The cancer was removed, along with his voicebox, which means right now he can't talk.
"I don't think anybody would expect something like this," said Cia. "I mean, we are a closeknit family. We work. We provide for our family and something like this comes along and throws you sideways."
Each day is a challenge. But today is a great day; their friends and family made over two hundred plates of food and sold them out of their garage. Money raised to help with growing treatment costs.
"Just our best way to support sometimes family just gets together in these times of hardship with food," said family friend G.I. Helsham.
Today's fundraiser helped bring in over three thousand dollars. Money the family never could have expected.
"Unbelievable. I really appreciate the fact that the community, the family, the church family-- everyone has just gone the second mile," said Rob's father, Terry Wetmore.
"We just find strength in each other," said Cia. "Everybody just kind of feeds off each other. He's given me so much inspiration for life itself because of what he's been able to go through and the strength that i find through him."
Rob starts radiation treatments on his throat this week. During that time he will have to use a feeding tube. But today he was able to enjoy all of the food made just for him.