Cash for Clunkers brought business and big bucks for Yakima
Posted:
Updated: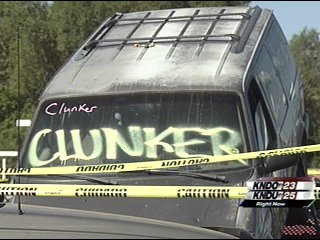 YAKIMA, Wash.- Last minute customer Vicki Allgaier said goodbye to her clunker Monday and traded her car in for a more efficient ride. Dealerships like Bob Hall's sold hundreds of their new cars in exchange for clunkers and stayed busy doing so all day.
"I have a '93 with high mileage and it runs well but for the price and trade in, I couldn't pass up the deal," said Allgaier.
Bob Hall says this stimulus program served its purpose, getting hundreds of drivers out of older gas-guzzlers and into newer more efficient cars. It also put money back into the Yakima economy and even attracted new buyers.
"It brought in a whole other group of people into car dealerships that don't have clunkers but decided maybe it's time, that it's okay for me to buy a car," said Bob Hall.
Dealerships owners say clunkers have pulled in a lot of good business. The only problem is that dealership paid hundreds of thousands of dollars to cover the costs, and the government has not reimbursed them yet.
"So our bank account is substantially debted, we don't carry that kind of money and most businesses don't so we have had to really stretch," said Hall.
Hall says only four of the last 100 clunkers they have sold were paid for by the government. The dealership is still waiting for a $300,000 refund which should be coming in the next few days.
"Hopefully we will all be standing when this is over and can look back and see it as what put America back to work and got us out of this recession and moving forward," said Hall.
So while customers turned in their cars, employees finished the day processing the last cash for clunker transactions.