Early river flip flop raises water safety concerns
Posted:
Updated: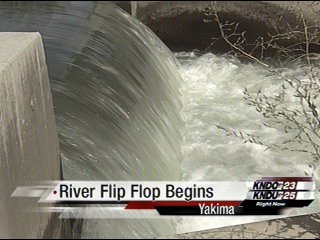 YAKIMA, Wash.- The river flip flop is already underway, releasing water from the Rimrock Reservoir into the Naches River and Yakima River. The water then trickles down into local irrigation and canals, the only thing is, this year, it is happening earlier than usual.
"You don't want to just totally crash the river, so were experimenting basically doing it more gradually to see if it has less of an affect on the river," said Chuck Garner, the river operations supervisor.
With rafting being so popular this time of year, employees from the Bureau of Reclamation say having the right water level is crucial. They say releasing water earlier is ensuring a steadier flow of water and reducing the impact on people using the river.
While the flip flop is an annual occurrence, this year, people are concerned with the already high water levels.
"The river is running unusually high and there is going to be people with kids camping along the river, assuming they're going up to a nice low running river for the last big camping hurrah of the season and instead they're going to see these dangerous conditions," said Luann Hayland, a concerned resident.
Luann Hayland goes camping and boating every month. While she understands the flip flop helps salmon adjust to lower water levels during winter and keeps irrigation steady, Hayland worries many people aren't aware of the conditions. She also questions this year's timing.
"Why can't this wait until the last camping weekend is over and the kids are back to school to have activities that are generally unsafe for children," said Hayland.
Employees from the Bureau of Reclamation said despite concerns, the flip flop is releasing the same amount of water as it normally would and that no one should feel at danger. Employees say the river should be at its highest level in mid-September.