First H1N1 (swine flu) related death in Yakima County
Posted:
Updated: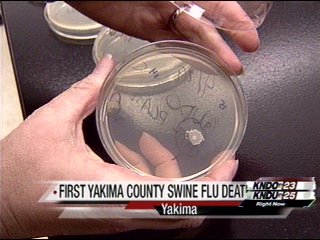 YAKIMA--Yakima County has its first confirmed death from the H1N1 virus, better known as the swine flu.
The Yakima Health District announced Thursday a man in his thirties passed away recently.
Officials say it wasn't just the swine flu. The man had some underlying health conditions that made him more vulnerable.
Since August 1 there have been seven positive swine flu tests in the county.
While health leaders don't want you to panic too much, people need to realize that this flu isn't going anywhere.
When the H1N1 virus first came to light in the spring, some people were frantic.
While physicians are seeing more people come in with flu-like symptoms than in years past, widespread concern has slowed down. But, health leaders expect an uptick soon.
"When people go back to school and start spending more time together, we're going to see more cases," Sheryl DiPietro, Yakima Health District, said.
At Memorial Hospital, doctors and nurses are ready for increased emergency room traffic.
"We are focusing on making sure that we're ready to handle the extra volumes of people or patients coming in," Assistant V.P. of Nursing Services Valerie Hennessy said.
Hennessy said caretakers don't need new training to treat people with H1N1.
"We know how to treat patients with flu," Hennessy said. "We know how to screen them, and take care of them in the hospital if they need it."
Here's some advice from the experts: wash your hands regularly, stay home from work or school if you are sick, and get vaccinated with the swine flu vaccine.
The Yakima Health District is expecting its first shipments to arrive in mid-October.
"We don't know what's going to happen come this fall," DiPietro said. "The concern with this virus is young people have not been exposed to it before."
People under 25 are most suspectible to catching this strain of flu.
If you come down with flu-like symptoms, don't head to the ER unless it's an immediate emergency. Instead, go to your family physician.
If you don't have a family physician, Hennessy advises everyone to get one right away.
That way you'll have faster and more affordable access to care than if you go to the emergency room.