New concussion law aims to protect high school athletes
Posted:
Updated: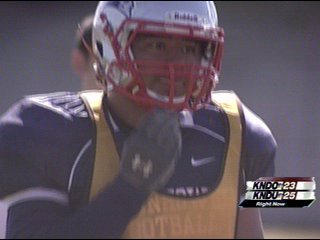 YAKIMA--That great American tradition, Friday night football, returns next week. But, sometimes we forget how dangerous the sport can be.
In 2006 a Maple Valley, Wash. player suffered a concussion, then went back in to the game and ended up paralyzed.
Now, Washington has what experts say is one of the toughest return-to-play laws in the U.S.
Eisenhower High School head coach Dan Eyman said that's a good thing.
"The decision has been taken out of coaches' hands and taken out of trainers' hands and [put] into the doctor's hands," he said. "They're more apt to make a better decision than maybe a coach is, just based on their medical knowledge."
We're just ten days into training camp, and one Cadet has already missed time with a slight concussion.
These helmets are mainly for protection, but they can also be a weapon. Because when two collide, the impact can leave both players seeing stars.
Ike linebacker Seth Kline knows the dangers of helmet-to-helmet collisions all too well.
"Freshman year, I went head-to-head with the fullback," Kline said. "Everything just started turning blue and I collapsed on the field."
After the hit, Kline couldn't remember his class schedule, or even where he was. That's why coach Eyman urges his players to avoid hits like that.
"The basic concept we always teach a kid is you should never lead with the head, you should never strike with the head," Eyman said.
That's where the second part of the new law comes in: teaching players and coaches how to avoid and detect dangerous plays.
"I have to know my route on offense," Kline, who doubles as a fullback, said. "If I don't know my route, obviously there's something wrong with me, and I'll take myself out."
Eyman wishes all his players were that cautious.
"They don't want to come off the field and again I think that goes back to that education piece knowing that you can't mess with that. You just can't mess with a brain injury."