Unlimited Hydroplanes shipping fleet to Qatar for international racing
Posted:
Updated: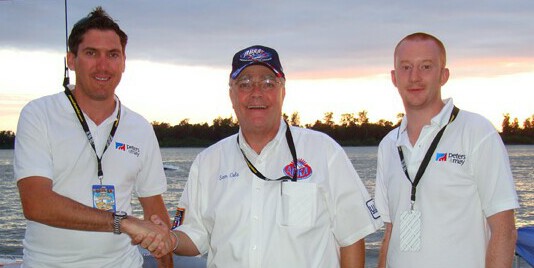 David Holley, Managing Director of Peters & May USA (left), Sam Cole, Chairman of the ABRA (center), Matt Penfold, Peters & May (right)
Seattle, WA (August 28, 2009) The ABRA announced at the Thunder on the Ohio race that it had chosen Peters & May USA as their official transport agent. P&M will be responsible for transporting all of the boats, trucks, support vehicles and equipment on each international leg of the ABRA circuit. Chicago based Peters & May Inc is a global leader in boat transport with strong contracts with global shipping lines due to the annual volume of boats transported. Through their network of global offices they offer a truly turnkey boat transport solution that compliments the requirements of boat racing organizations.
On announcing the new relationship, Sam Cole Chairman of the ABRA said, "With something as Valuable to us our entire fleet of race boats and their support equipment going half way around the planet, it's great to know its all in the hands of the most reliable marine transportation company in the world. Going to Qatar is a tremendous step forward for our sport and we are delighted to be working with Peters & May and welcoming them aboard as our official transport agent."
Dave Holley, MD of Peters & May USA Inc commented, 'We are proud that an organization with great heritage such as the ABRA has chosen us as their Official transport agent. Peters & May's first shipment back in 1986 was a Cougar racing boat and since then we have continued to offer services to various racing organizations. Our dedicated team takes boat transportation seriously and as many of us are keen followers of the powerboat circuit, we understand that the boats need to arrive safely and in a timely fashion so that the teams have plenty of time to test and prepare the boats prior to race day.
The first challenge to face Peters & May is the transport of the ABRA circuit from the USA to Doha and back for the Inaugural Oryx cup. Moving 10 boats, trucks, trailers and all the support vehicles to and from Qatar is no easy feat and has taken months of planning. With a tight deadline to meet, trying to find the right vessel with the right transit time was key to the success of the project. Using a Hoegh Autoliners RORO vessel, (one of Peters & May's main shipping line contracts), provided the ideal transport solution.
"Our event in Qatar marks a real milestone in the history of our sport," said Cole. "The Oryx Cup Championship is very important to us. Our series championship will be decided in Doha. It is very exciting to be taking the world's fastest boats abroad for such a premier event and it is critical that the trip over and back goes smoothly. Peters and May have been great to work with, and have given us confidence that a project as big as ours can be carried out logistically."
Holley added, "This event will be truly special. Growing up in the Middle East, I was fortunate enough to see the development of powerboat racing in the region. Previous events in the Gulf have always produced outstanding crowds and I am sure this event will follow this trend. The gulf has been exposed to Class 1 & Formula 1 but they have never experienced a race that generates such speed & noise in such a close proximity to the crowd."
The American Boat Racing Association finished it's North American racing season on August 2nd in Evansville, Indiana. The series features the world's fastest race boats, measuring 28-30 feet in length and weighing over 6700 pounds each. Unlimited Hydroplanes are capable of reaching speeds over 200 mph in competition. The series raced at Pearl Harbor, Hawaii eleven times, but this will be the first time the American "Thunderboats" have crossed the Atlantic.
---

Peters & May USA Inc was established in early 2009 when UK based Peters & May re-branded its Chicago Company, Air & Ocean Shipping. The move formalizes the US operation as part of the Peters & May global network of own offices (Australia, Dubai, France, Germany and Spain) and strategic partners working in more than 150 ports in 60 countries.
The company is a Federal Maritime Commission licensed NVOCC and has contracts with key Global shipping lines. It offers a turnkey solution for US manufacturers exporting to dealers or exhibiting at international shows and events and handles overseas transport of boats from 20ft to 120ft feet. Using experienced personnel within its global partnership network the company will manage fiscal clearance and customs and legal documentation wherever the destination port may be in the world. For example, where boats are entering Europe from the US, the relevant European Peters and May offices will verify CE marking.
The ten-strong team is headed by Dave Holley, who has extensive experience in international boat shipping and logistics. He has previously held senior positions in three of Peters & May's global network of offices (Dubai, Spain and the UK).
The company is the preferred shipper to leading boat companies seeking a turnkey solution for their shipment needs, including Correct Craft Inc and Viking Yachts.
---
SOURCE: ABRA