Burbank woman shaken after someone hits her car with rock
Posted:
Updated: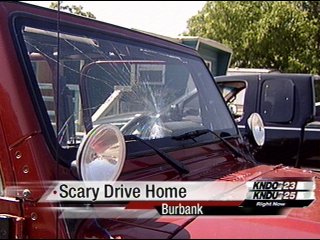 BURBANK, Wash.-- It's the last thing we want to think about on the drive home from work-- the thought of someone throwing rocks onto your car.
But a drive home for a burbank woman turns into the scare of her life. It's the second time in less than two weeks someone in our area has been hit by rocks thrown off an overpass. The latest incident happened at I-182 and the 395 overpass in Pasco.
"And it was the scariest thing ever," she said. "The thing that actually kept me alive was my windshield and I'm very thankful the rock didn't go all the way through."
It's a drive home Christina Trivett will never forget. As she was driving on Interstate 182 towards her home in Burbank, someone or some people threw a rock and destroyed her windshield. A day after and she's still shaken up.
"I was in shock, I was in total shock I didn't know what exactly hit me," she said. "I wasn't sure and I was looking back and I see there's these people like three of them on top and I'm like, 'oh my God! They just hit my car with a rock.'"
It's at least the second time in less than two weeks have been hit by rocks thrown off overpasses. Just over a week ago in Richland, two cars were hit, including a truck. One of the drivers had cuts on his arms and face from the broken glass.
State Patrol says if you happen to get hit by any type of debris, try and remain calm and safely stop on the shoulder and call 911. And as for those responsible, police say it can be tough to catch the criminals responsible and they rely on tips from drivers who might have seen something. As for the people Who hit Christina's car, State Patrol is still looking for those responsible.