Discipline in schools has changed over 50 years
Posted:
Updated: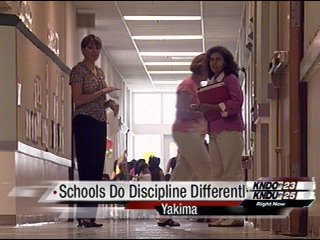 YAKIMA--KNDO celebrates its 50th anniversary this year. To commemorate the occasion we're taking a look at what's changed; this week, the differences in how schools discipline students.
Whether you lived through it or just heard the stories, we all know about getting whacked by rulers if you misbehaved back then.
That doesn't happen anymore, but in many ways our schools are stricter now.
Becky Scholl has spent 40 years in education. She's Executive Director of Student Services for the Yakima School District.
As a student, her teachers took a harder line.
"I got slapped on the hand with the sole of a rubber boot, three times," Scholl said. "I never forgave that principal."
The state legislature banned corporal punishment, like hitting students, withholding lunch, or making kids do excessive amounts of pushups, in 1993.
At Davis High School, discipline is teaching, not punishment.
"They won't scream at you, they won't say 'oh this and that,'" junior Christian Brooks said. "They'll talk to you and make sure that they give you the help that you need."
Administrators aren't the only ones under the microscope. The rules have changed for students too.
"We really are coming down on harassment, sexual harassment, and the putdowns," Scholl said.
Teachers turned a blind eye to bullying for years, or downplayed it as "kids being kids." That attitude is gone.
"One of the things that is changed is that we have a better understanding of what makes a whole healthy person," Scholl said.
In many of our schools, problem-solving is taught the same as math or science.
Scholl has seen a change over time. Too many kids don't learn how to resolve issues at home.
"Problem solving needs to be worked on between home and school," she said. "If children feel that the home and school are working together it's a safety net."
Getting in trouble in school used to mean bigger trouble at home.
Instead, Scholl often sees parents blame the school when their child gets in trouble.