Domestic violence and schools
Posted:
Updated: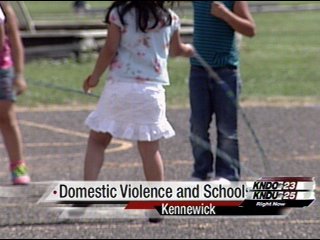 KENNEWICK, Wash-- For some elementary school kids, playtime on the blacktop is a chance to escape an issue staring millions in the face--domestic violence. For others, time at school can also be a time of uncertainty.
"School's a safe spot for most of our our kids hopefully," says Niki Arnold-Smith, principal of one Kennewick elementary school. "They come and there's routine, structure, and there's not a whole lot of surprises. Whether they want to stay home to protect mom or dad, we don't know that."
Part of Niki's job is to make sure kids get the help they may need.
"I think a big part of it is building relationships with the kids. If they have a teacher, a peer educator, anybody they feel comfortable with will increase the chance of reporting it."
Staff with the Domestic Violence Services of Benton and Franklin Counties say building trust can be a challenge, but it's also crucial to a child's success in the classroom.
"Anytime a child has experienced trauma, kids may act out behaviorally, emotionally. They may have trouble making relationships," says Erinn Gailey with DVS. "All of those dynamics will impair their ability to learn."
If you need help, visit the Domestic Violence Services of Benton and Franklin Counties' website at: www.dvsbf.org. You can also call their 24-hour hotline at: (509) 582-9841, or toll-free 1-800-648-1277.