Possible Door to Door Scam
Posted:
Updated: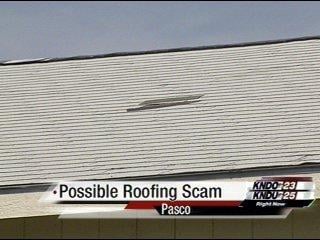 RICHLAND, WA. - A Pasco couple is warning others of a possible scam involving door to door repairmen.
Richard and Lavern Carter of Pasco got an unexpected visit from a repairman wanting to fix some loose shingles on their roof.
But after a short investigation on their part, they saw a few red flags.
"There are a couple of shingles that had been flipped over from the wind," said Richard Carter who says it's these few shingles that caught the attention of a repairman who stopped by Tuesday looking for work. The man pulled up in a large van with two ladders on top and said he could fix the roof.
"I started to question him a little bit about who he was and asked him if he had a license. He pulled out his wallet and gave me a number," said Carter.
Carter then gave that number to the Better Business Bureau and the State's Licensing Division who couldn't find a match.
"We never could find him registered or listed anywhere, even in his home town."
Carter told the man he was no longer interested and the man drove off through the neighborhood, possibly looking for more work.
For all Carter knows, the repairman may have been an honest man trying to earn a living, but he didn't go about it the right way.
"If he'd come in such a way, and we could have checked him and know who and what he was, he could very possible gotten the job," said Carter.
The Better Business Bureau reports any contractor or business owner should have an L&I number from Labor and Industries. Anyone can then take that number, as well as the business name or owner's name on the Washington Labor and Industries website to find out if it's registered.
KNDU has set up a link to that website. Just click on the "Find Links Here" link at the top of the home page.