West Valley elementary schools filling up
Posted:
Updated: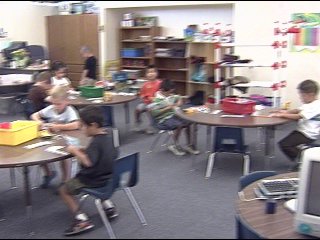 WEST VALLEY--Crowded classrooms at West Valley elementary schools. Now, students are being shuffled around.
Recess is every young student's favorite class, but these kids aren't on the playground their parents expected.
Instead of Cottonwood Elementary or Wide Hollow Elementary, they're at Summitview Elementary.
"There is no more classroom space at Cottonwood and Wide Hollow," Dr. Peter Ansingh, West Valley School District Superintendent, said. "We're essentially maxed out."
Erika Kabrich teaches one of the overflow classes. She volunteered to teach kindergartners last week and got word on Tuesday: the class was hers.
"It was pretty nerve-wracking," Kabrich said. "My family helped me come in here and decorate the room. The [custodians] put new carpet, new paint up literally the day before I got in the room."
And, while having a day to prepare for the new school year has been hard on her, administrators worry the real damage might be to the students.
The overflow kindergarten and first grade classes at Summitview have to leave school early to be bussed back to Wide Hollow or Cottonwood Elementaries. Then after that, they have to get on another bus to go back to their homes.
Their day starts and ends at the school they were supposed to attend.
They're losing classroom time, but Kabrich believes it's the lesser of two evils.
"We really couldn't have huge class sizes for kindergarten and give them a quality education," she said.
The West Valley School District ran a bond to build more classrooms, but voters said no earlier this year.
So the district has to make do. Freshman will move in to the old West Valley High School and seventh graders will take their place in the junior high. Those moves will allow fifth graders to move to middle schools.
"Temporarily, that'll give us at least a couple more classrooms in each of those buildings and in the elementary schools, which is where we need the space," Ansingh said.
Even with those changes, four of the district's six elementary schools will still have students in portable classrooms.
Ansingh doesn't expect the district to pursue expansion for the next few years.