Host families needed for exchange students
Posted:
Updated: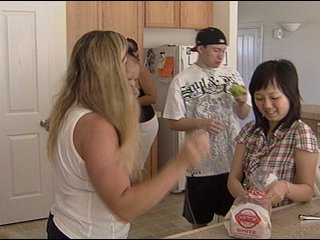 PASCO, Wash. - Families across the country are taking advantage of being a host family. Many people are calling it an experience of a lifetime. The Kalai household is from Pasco and has two foreign exchange students of their own. One is from the Netherlands the other is from Hong Kong. David Salwegder is a senior in high school and says he is having a lot of fun. "It's pretty cool, everything is really different, way bigger," said David. David is one of many international students in the Tri-Cities area. He is here because of a non-profit organization called Face The World. This organization places international high school students with American families.
Host Mom,Kelly Kolai, is a single mom who took in two foreign exchange students. Kelly is the sole provider for the house and supports seven people, three dogs, two cats and two ferrets. She says she doesn't mind the full house and that adding two more people was not as difficult as she thought. "I'm terrible I like to just give. So money is no issue. I keep working, i pay my bills anyway. The two little kids eat a little bit more food so it's no big deal," said Kelly. She says the kids even pay for their own school and personal expenses. She also believes the experience is way worth it and reccomends it to anyone. "I think if you have an open attitude, it's a great experience. They don't have to be perfect, they don't have to be a millionaire you just have to have a secure household and be willing to help out and treat them like your own," said Kelly.
If you are interested in being a host family and live in Kennewick then Face The World needs your help. The non-profit organization is looking for two host families for this upcoming school year. You must be able to pass a background check and have an extra bedroom for the student. For more information contact Kelly or Brittany Kolai at 509-380-0075.