Middle school students reflect on President Obama's speech
Posted:
Updated: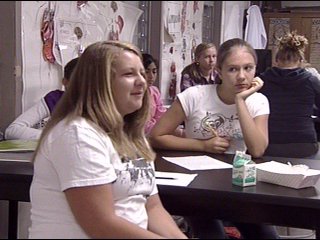 YAKIMA, Wash-- It could be said that middle school students are highly impressionable.
And a message of education, responsibility and hard work seemed to resonate when it was given by President Barack Obama.
As students across the country tuned in to Mr. Obama, so did Christina Carlson's middle school science class. The President delivered a simple message, your education is your future.
After the speech student shared their thoughts.
"The stuff that he said was mostly stuff that I've already heard from my parents, but it really doesn't click when I hear if from them, but hearing it from him was understandable," said Katie Geerheart, student
"You cannot drop out of school and just drop into a good job. You've got to train for it and work for it and learn for it. And this isn't just important for your own life and your own future, what you make of your education will decide nothing less then the future of this country," said Obama.
Mr. Obama also told students education is the way to find their talents.
"I didn't know how much I loved drama until I did it in school and then in fifth grade it clicked," said Karoly Despain, student. Despain also said she plans to study drama in college.
For many students the President's personal life strikes a cord.
"The circumstances of your life, what you look like, where you come from, how much money you have, what you've got going on at home, none of that is an excuse for neglecting your homework or having a bad attitude at school," said Obama.
"My sister dropped out of high school, so I'm probably going to be the only kid who goes to college in my whole family," said Chris Thiessen, student.
In the Yakima School District viewing the speech was optional. About half the schools choose to carry the President's speech and within those schools only a fraction of teachers actually showed it. So, a very small percentage of students actually saw President Obama's speech Tuesday morning.