The many acts of Yakima's jewel box
Posted:
Updated: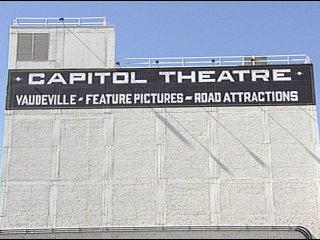 YAKIMA, Wash. - This week the Capitol Theatre raised the curtain on it's latest act in Yakima, building a new production center.
The event is a small part of the facility's long history in town, it's one of the many places that have made the journey with KNDO as the station celebrates 50 years in Yakima.
Steve Caffery is the CEO of the Capitol Theatre. He believes the almost $10 million expansion project is the only way they can remain relevant.
"Without the production center, the shows are going to get so big we're not going to be able to bring them in regardless of the price," he said. "It's no longer a money issue."
Some of the people working on the Capitol's future were there during its beginnings. The theatre had its first performance in 1920 and in the decades that followed, welcomed many shows and movies.
"The Capitol was the premiere theatre, that's where all the stage shows were, the Vaudeville," said Don Moen, general contractor for the expansion project. "I was here often, it's just a marvelous facility."
The theatre has always had the spotlight in Yakima but it has also had dark days. After the city purchased the Capitol in 1975, a fire burned the majority of its interior. A difficult challenge for the facility's new owner.
"This community helped rebuild this theatre," said Dick Zais, Yakima City Manager. "We're able to create a financial package along with some insurance that helped it reemerge."
Today 100,000 people visit the theatre each year. It connects Yakima with the state, country, and world. Debates between candidates for governor, performances from touring Broadway shows, and lectures from renowned speakers through the Town Hall series have all taken place at the Capitol.
"You have a theatre, a performing arts center of this nature and it attracts people here," said Zais. "It's got a reputation that's first class."
But beyond the name the Capitol has built for itself through the years around the country, it has always been a place of pride for residents.
"I still remember going to my first Broadway theatre in New York in 1955," said Moen. "This theatre, frankly, is much better than the one's I went to on Broadway."
Supporters of the facility hope these improvements will keep the Capitol in line with those theatres on Broadway and keep bringing their shows back to Yakima.