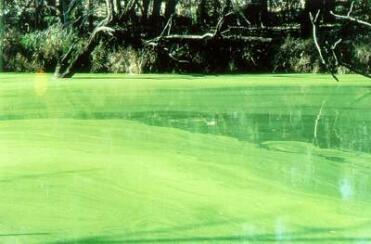 HEPPNER, Ore.-- A warning if you live near, or go camping at, Willow Creek Reservoir outside of Heppner, Oregon.

The Oregon Department of Human Services (DHS) has confirmed that toxic blue-green algae has been found in the reservoir again, and they've issued a health advisory.
The algae looks like a green or blue colored film on top of the water. It's also said to look like spilled paint or split pea soup. If you see it, don't drink the water, jump in it, or let pets near it. It can cause rashes, stomach problems, or even be deadly.
Curtis Cude, Program Manager with DHS, says this isn't the first time they've seen the toxic algae at willow creek reservoir, and more cases of it are popping up. He explains, "Just looking at the numbers, year by year, we've had more blooms, but it's hard for us to tell whether it's because we're looking more for them, and are aware of them, or if the conditions are such that we're getting more blooms."

Cude says these algae blooms are a result of water, temperature, and certain nutrients, which can be both naturally introduced or caused by humans.
If you want to check for these dangerous growths and see where they're happening in Oregon, click here.