Taxpayers cover costs to clean up highway accidents
Posted:
Updated: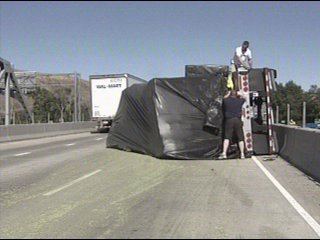 YAKIMA, Wash.- Cleaning up after accidents is expensive and you could be paying the bill. State troopers have responded to more than 400 accidents this year and the clean up keeps Department of Transportation workers busy.
Yakima, Selah, Sunnyside and Wapato are all places where DOT and State Troopers have responded to accidents, several times this year. Most of them were on highway I-82.
"We really encourage people to pay attention put that cell phone down, watch out for sun glare and don't get into that accident because who knows what it is going to cost you," said Todd Trepanier, a DOT manager for maintenance and operations.
Seventeen of the 452 accidents so far this year ended in fatalities. While most of these accidents didn't cost people their lives, drivers are still paying for the consequences.
"As a driver some people don't realize if you damage a guard rail or an illumination pole you will be held financially responsible," said Trepanier.
The Naches Bridge repair is a good example of this. A truck was towing a crane and driving under it, when the crane's boom hit the bridge, ripping those steal beams in half. Now, the driver responsible is paying anywhere from a few thousand to one million dollars in costs.
But it's not so simple. Fifty percent of the time DOT employees are able to find drivers responsible for the damages. The other half of the time, the risk management team tries to track down the drivers involved.
"When there is damage and there are no responsible party that comes from the tax payers," said Trepanier.
Every year that amount totals around $1 million in Yakima County. To reduce the number of accidents, State Troopers say there are things to watch out for.
"Distracted drivers, we see a lot of people on their cell phones, eating while driving, switching the stereo and using their navigation," said Sgt. Ed McAvoy with the Washington State Patrol.
If you do see an accident, report it to the State Patrol, it could cost you later on.