Duplex fire in Richland
Posted:
Updated: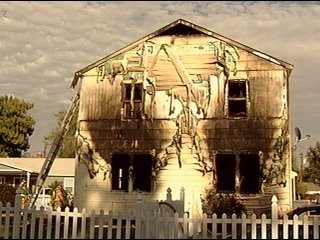 RICHLAND, Wash. -- A duplex in Richland goes up in flames Monday afternoon and firefighters say the fire was rather unusual.
Crews were dispatched to the home off Thayer Drive shortly after 4pm. Firefighters say when they arrived, the home was already engulfed.
There were people living inside. Everyone made it out safely, but one person had to be taken to Kadlec Medical Center for smoke inhalation.
Firefighters say it is unusual to have a fire grow so fast in the middle of the day. James Hempstead, Battalion Chief with the Richland Fier Department said, "Usually somebody sees it sooner and somebody says 'oh, there's smoke in the window' or 'there's fire in the window' and they notify us much sooner. But in this case, by the time we got here, there was substantial fire involvement."
18-year old Gwen Egelhoff was one of the first to call dispatch about the fire. She described the experience, saying, "it was pretty scary. I called and the operator told me, the dispatch told me, there were a couple other people who called and I guess I was the only one who got through."
Crews were able to keep the fire from spreading to the other duplex, but it did have some some smoke damage. The red cross is helping the family who lived in the side that was destroyed.