Arsonist may be targeting North Central Yakima
Posted:
Updated: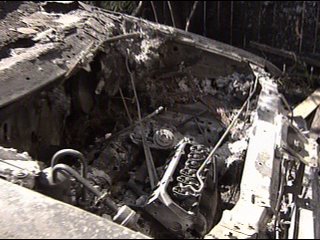 YAKIMA--Three early-morning fires within a one-block area. The recent rash has some residents suspecting arson.
Julian Arias lives on West Lincoln Avenue, across the street from where two fires happened.
He's lived in this neighborhood for about 30 years now. He told KNDO he's never seen so many fires so close together.
Wednesday morning, three fires within a one-block stretch between Garfield and Lincoln Avenues.
Only one fire did major damage. It could have been a different story if not for Arias.
"I woke up last night, the dogs were barking and I looked out and I saw a little smoke," he said.
Arias went outside and found a small fire in a pile of brush in his neighbor's backyard.
Firefighters took care of it, but less than an hour later, they were back.
At the exact same house; this time, the fire started near a car and spread inside.
Three people inside got out just in time.
"All of these fires' [causes] are undetermined," Assistant Fire Marshal Ron Melcher, Yakima Fire Department, said. "However, they're definitely suspicious. "You have three fires in one morning in one small area, pretty much we can figure out that they're human-caused."
Add in a garage fire on the 1400 block of Roosevelt Avenue on Sunday, and that makes four suspicious fires within a square mile.
"It's kind of strange how somebody would come and light the grass on fire," Arias said. "Then the house was on fire next thing you know."
Melcher suspects the fires are opportunity crimes, but Arias and his neighbors think it's revenge, claiming they saw a recently evicted roommate in the area this morning. They believe he started the fires.
It's similar to Jim Kent's story. Sunday's fire destroyed his cars and garage.
He thinks he was targeted. The former volunteer fireman believes clues at the scene back him up.
"Looks like there's a burn pattern over here on the side of the truck something liquid," Kent said. "I found glass in the truck that didn't come from the truck.
Firefighters haven't confirmed his suspicions.
All four fires remain under investigation.
Melcher asks people to clean up flammable materials, like lumber, weeds or other vegetation. Those can be inviting targets for somebody looking to start a fire.
Arias said he and his neighbors aren't afraid of more fires. He does plan to be more vigilant.
"It [the fires] just keeps us focused on what's going on in this neighborhood."