Family remembers crash on Child Passenger Safety Week
Posted:
Updated: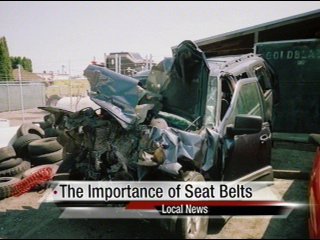 KENNEWICK, Wash.-- It's Child Passenger Safety Week. The Leach family knows just how important buckling up can be. It may have saved their lives when they got in a horrific accident.
At the beginning of August, there was an accident on Highway 12 near White Pass. State patrol troopers say a Jeep hit a Ford Explorer head on. Three out of five people in the Jeep died, two of them, ages 11 and 15, weren't wearing their seat belts. The Leach family was in the Explorer, and all survived.
The father, Daniel Leach, remembers thinking, "This is it...this is the end." He went on to explain, "Next thing you know, I was just like, 'Wow, we're still here,' and seeing all my kids alright and everything was just like instant relief right there."

The mother, Casey Leach, believes it's all because each and every one of them was wearing a seat belt. She explains, "That's what did it. That's what saved our lives. No doubt about it." Neither she nor her husband will put the car into drive unless everyone has their seat belt on.

Leach says, "That one time you don't buckle up could be the time you get into an accident.. and when your lives, and the lives of your children, and other people's lives [depend on it].. You should always think about that."
AAA data shows that safety seats reduce the risk of fatal injuries by 91 percent for infants and 54 percent for toddlers.