Ball field expansion may threaten Kiwanis Pond
Posted:
Updated: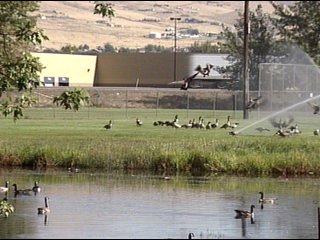 YAKIMA, Wash.- Kiwanis Park has been a labor of love for many and the renovation continues as local service groups, the city and the school district work to add more ball fields. Something people living next to Kiwanis Park have mixed feelings about.
"It's going to increase traffic problems, but on the other hand it's going to increase city revenues," said Barbara Bertke, nearby resident.
The Gateway Sports Complex at Kiwanis Park brought in more than $10,000 last year in user fees. More ball fields could mean more revenue for the city, not to mention thousands of dollars from out of town players. But, one phase of the project could eliminate Kiwanis Pond.
"It is almost 2 1/2 to 3 acres of property that we could put to use," said Jean Rostvold, Kiwanis Park Development Committee.
The neighborhoods of East Yakima are full of children, Rostvold said adding ball fields is about more than just revenue.
"The need for more ball fields here are really for the kids in Yakima. We're in need of Little League fields and also we're in need of girls fast pitch fields, we just don't have any in Yakima," said Rostvold.
But, there's also the many elderly residents in the area that enjoy the atmosphere the pond offers. Bertke would like to see a compromise.
"I'd say the ball fields around the pond, the pond is a focal point," said Bertke.
Currently, the project is under SEPA review and the fate of Kiwanis Pond is dependant on that environmental review.