Spree of fires in North Central Yakima now considered arson
Posted:
Updated: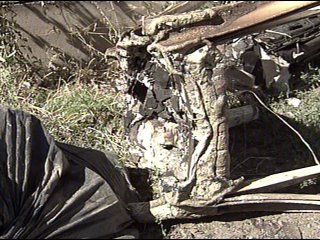 YAKIMA--A home in the 1400 block of West Lincoln Avenue hit by suspicious fires two straight nights. Is there an active arsonist roaming North Central Yakima?
"Everybody's concerned and trying to look out for each other," Alan Culbertson, who lives a stone's throw from the most recent fire. "There's a lot of families around here with a lot of kids and we're lucky no one's been badly burned or killed."
Culbertson has good reason to be concerned. In the past 11 days, we've seen six fires in the same neighborhood. Now, firefighters are trying to connect the dots.
On September 6, KNDO covered a fire on the 1300 block of Fairbanks Avenue. A week later, fire destroyed a family's garage and three vehicles in the 1400 block of Roosevelt Avenue. Then on Wednesday, crews battled three fires; two at the same house on the 1300 block of Garfield and one in the 1400 block of Lincoln.
Then Thursday morning, number six. The same house on Lincoln; hit twice in 24 hours. That was enough for firefighters to make it official: someone's setting these fires intentionally.
"That is brazen to have somebody come back and try the very same thing that they attempted the night before," Det. Jim Fuehrer, YFD Assistant Fire Marshal, said.
His job: find out who's starting these fires and put them behind bars.
But, it will take some legwork.
"We are tracking each case in and of itself for individual clues," Fuehrer said. "But, we're also looking at this thing from the top down."
Fuehrer doesn't have any suspects yet, and he's not even sure if this is the work of one person or a group.
But, there is a pattern. KNDO checked the scenes and found some similarities between these three most recent fires. First, they all have easy access to alleyways. Second, brush and garbage make for an easy target.
Victims we met in recent days believed they'd been targeted, but so far investigators don't have any motive. They're labeling these opportunity crimes.
So firefighters urge you, turn on your outside lights and junk any junk that's lying around.
"You're taking away the opportunity for someone that has a fire in mind," Fuehrer said. "You're literally taking the fuel away."
If you have any information about these fires, call 509-575-6140.
The fire on Lincoln Avenue did an estimated $60,000 worth of damage, bringing the total cost of this arson spree to roughly $175,000.