Man who tried to rob Banner Bank still on the loose
Posted:
Updated: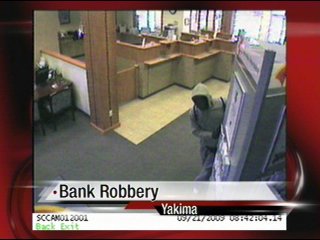 YAKIMA, Wash.- An attempted bank robber is still on the loose after breaking into the Banner Bank on Summitview Avenue Monday morning.

The man was waiting when people showed up for work at Banner Bank. He'd broken through a window sometime before the bank opened, he waited armed and ready to demand money.
But, when he wouldn't come out of the break room, the workers ran from the building.
"So he was aware of the cameras," said Chief Sam Granato, Yakima Police Department.
When his shot of getting any money was gone, he too ran from the bank to nearby Johnson Orchards on Summitview, where Jon Phillip was waiting for customers to arrive.
"You know it's unusual to have somebody coming down are drive-way on foot and he was running at first and then he slowed to a walk, so that seemed unusual enough to take some note," said Phillip.
After searching the bank Yakima Police Department's SWAT team turned to the orchards, using the description Phillip gave them.
"He had a back pack slung over one shoulder, African American male, looked like he was late 20's, possibly, fairly athletic build," described Phillip.
Neighbors surrounding the bank and orchard were asked to stay in their homes and some weren't allowed to return home until the search was called off. The Kinder Care Learning Facility was also full of children at the time of the search, they were evacuated.

The SWAT team cleared the orchard and nearby homes, but did not find the suspect.
"They've located the clothing and the backpack and the gun that the suspect was wearing in the bank so they know he's discarded his clothing," said Granato.
Police said the suspect did not make off with any money and they're not sure if he had an accomplice. They have some video surveillance from Banner Bank and a nearby Credit Union. If you know anything about the robbery call YPD 575-6200.