Memorial services for fallen soldiers
Posted:
Updated: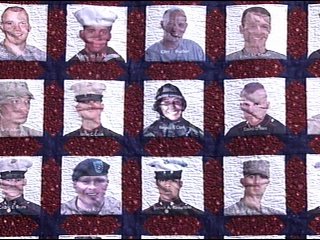 TRI-CITIES, Wash-- For Vietnam veteran Jack Gilchrist, Saturday's memorial in Benton City is a way to give back.
"I'm honoring all the veterans that died for our country," he says. "I was just going to make it for the Vietnam War, but I said 'nah, I'm going to make it for all wars. I'm going to fly my dad's flag."
The centerpiece of his memorial service is a murel and statue.
"I feel I'm doing something to honor all veterans and I think people should know more about the veterans and what they've done."
About 20 miles down the road in Richland, a group of women are setting up a hand-made quilt for this year's time of rememberance memorial.
It's embroidered with pictures of soldiers that died in the line of a duty, a loss the memorial's founder knows all too well.
"I lost my son back in 2004," explains Shirley Schmunk.
But Shirley found strength to move forward, and started her own memorial services in the Tri-Cities to help others.
"This community has just made our event so wonderful that the families from all around are now beginning to look at this as their place to come now for the family reunion."
Interested in attending either of the services? Here's more information:
TIME OF REMEMBRANCE:
Friday, Sep. 25--Free concert at Flat Top Park in West Richland. 7 p.m.
Saturday, Sep. 26-- Prive activities for families, then open candlelight ceremony at Regional Veterans Memorial in Columbia Park in Kennewick. 7 p.m.
Sunday, Sep. 27-- Public memorial ceremony at Flat Top Park in West Richland. 11 a.m.
GILCHRIST VETRERAN MEMORIAL:
400 block of 7th Street, Benton City. 1 p.m.-5 p.m.