State workers are picketing against intimidation and tension at Worksource
Posted:
Updated: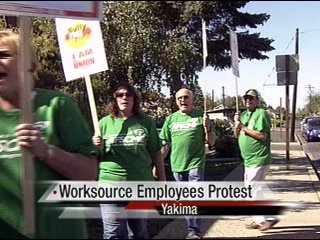 YAKIMA, Wash.- Some state workers picketed Thursday saying they don't like changes to their work environment. These state workers are the ones that help other people find jobs.
Employees started setting up at around 11 a.m. They were in full force by noon, and picketed until two this afternoon. All this is an effort to be heard.
"As employees of the State of Washington we also want to respect them but there doesn't appear to be mutual respect from both sides," said union member Bill Kirby.
These union members work for the State's Employment Security office, in Yakima, that means Worksource. They say they're tired of being intimidated and scrutinized for things that aren't a part of their work policy.
"We wore jeans 6 weeks ago with dress jackets, nice clothing, all tucked and three of us got reprimanded for that," said Shirley Clerf, a union member.
Employees say all the new rules management is enforcing is creating tension, so much that some of them don't want to go in anymore.
"They can't just arbitrarily come in and say this is how things are going to be from now on without any discussion, unfortunately, they're more like a dictatorship than management," said Kirby.
Employees say they tried talking to management several times, but that hasn't worked. Which is why they're out here with signs like this; they're hoping these signs will make a difference.
State administrators didn't want to do an interview but Commissioner Karen Lee did send out this statement:
"It's important to me that every Worksource office provides the highest quality of services to every customer. Throughout the state, we are holding our staff accountable for meeting that expectation, and that's uncomfortable for some of them. Ultimately, it's the right priority for our customers, and we will address the staff's concerns about these expectations through their union representatives."
We will be keeping in touch with union members to see if these issues get resolved.

*We are interested in hearing what the community has to say. Please keep your comments clean; explicit comments will be removed.