Central Washington State Fair celebrates "Candy Nation"
Posted:
Updated: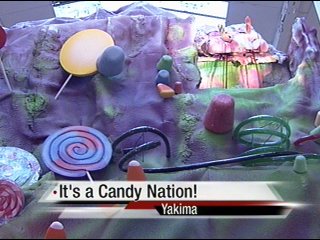 YAKIMA, Wash. - There's no doubt America is a candy nation with its love for sweets and their role in pop culture. This year's featured exhibit at the Central Washington State Fair celebrates that in an informative and playful way.
Troy Carlson is the creator of "It's a Candy Nation" and brought the exhibit to the fair, in its first appearance outside of California.
"We wanted it to be really interactive and fun," he said. "We also wanted to be able to play on the senses because I think when you think of candy there's the smell."
Two highlights of the exhibit include the Bean Boozled taste test, where you try a randomly selected Jelly Belly that could be enjoyable like "Carmel Corn" or not as satisfying, like "Moldy Cheese."
Another experience visitors will enjoy is the chance to recreate a moment in candy pop culture.
In a famous episode of "I Love Lucy," Lucy and Ethel are unable to keep up with the demands of a chocolate factory conveyer belt and wrap the sweets in time. Both women are told they will lose their job if they cannot keep up.
Judith Lynne Farvero is a Lucille Ball impressionist who travels the country and gives people the chance to play the role of Lucy and Ethel. She says those who participate have to be willing to do anything to make those treats disappear.
"You got to stuff 'em everywhere," she said. "The objective is to get all of the chocolate off the conveyer belt so you don't get fired."
Admission to it's a candy nation is free with your fair ticket.
To find out fair hours, ticket prices, and a see a full schedule of events, visit www.fairfun.com.