UPDATE: Investigators locate person who mailed suspicious package to courthouse
Posted:
Updated: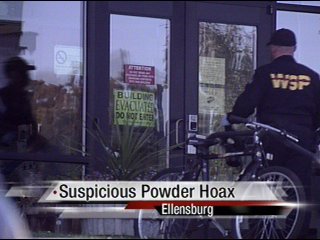 ***UPDATE***
ELLENSBURG, Wash. -- Ellensburg police have found the person responsible for the suspicious packages that shut down the Kittitas County courthouse last week.
Police said the envelopes came from a person from Clark County. The envelopes had a return address lapel. The person was writing for legal help regarding a family member. While the person was stuffing the envelopes the suspicious substance inadvertently got inside.
Capt. Dan Hansberry, Ellensburg Police Department, said if he'd read the same letter they found in the envelope in an e-mail he wouldn't have been alarmed.
Now police are saying the whole incident was accidental and they won't seek charges.
ELLENSBURG, Wash. -- Ellensburg Police are trying to figure out who sent three suspicious packages filled with white powder. It was a hoax, the powder was non-toxic.
Detectives tell KNDO there was a return address label and a note in one of the envelopes. They are following those leads. Currently, the post master has the evidence recovered, it may be sent to the crime lab for analysis.
ELLENSBURG, Wash. -- "Suspicious powder isolated in mail; determined to be a hoax
Kittitas Valley Fire and Rescue was dispatched to a call about a suspicious powder inside a mail item at the Kittitas County Courthouse, 205 W 5th Ave, in Ellensburg, at about 1:20 p.m. today. After the Washington State Patrol Hazardous Materials SWAT team recovered the substance from the inside the building it was tested on site. Law enforcement officials are calling the situation a hoax.
All buildings that were affected have been reopened. Ellensburg Police Department and the United States Postal Service will handle any resulting criminal investigation."