Council Member Rick Ensey in court for recall hearing
Posted:
Updated: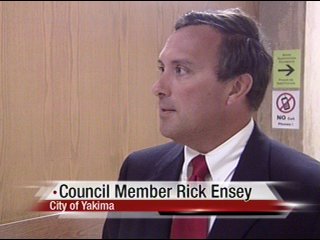 YAKIMA, Wash.- A city council controversy spanning months continues to go unresolved. Council Member Rick Ensey was in court Friday trying to prevent a possible recall.
"I've said it before, it's simply politics, it started when I was elected that's what it's about and hopefully the judge will see that," said Ensey.
Charlotte Jones and Gene Rupel disagree, they're trying to convince Judge Michael McCarthy to approve their petition for recall. They're alleging Ensey broke the open public meetings act by lining up votes to change the cities budgeting process. Something that Council Member Neil McClure resigned over.
"Republicans, Democrats, lots of people were just not comfortable with what happened," said Ron Bonlender.
The petitioners attorney, Doug McKinley, argued that McCarthy doesn't even have to make a ruling about the open meetings act. He just has to find that it could've happened for the recall process to move forward.
"I can assure you I've read plenty of cases about recall and the open public meetings act over the past couple of days," said McCarthy.
McCarthy plans to review more cases this weekend and hopefully come to a decision by Monday.
"I really hope it's the end, but who knows, you just fight one battle at a time," said Ensey.

"However, which way it goes it's going to the supreme court I feel and that's what I think is gonna happen," said Bonlender.