Dogs trained in prison
Posted:
Updated: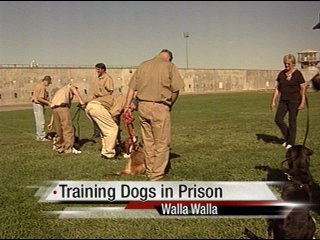 WALLA WALLA, Wash-- Washington State Penitentiary in Walla Walla is now home to half-a-dozen dogs, including George the basset hound.
"He's real friendly. He loves everybody, loves the attention," says his trainer, Billy Martin. "He's a little stubborn at times. He's probably the most popular dog here in the institution."
George's trainer Billy Martin has been in prison for nearly three decades.
"George is just, man, he's been a blessing in disguise," Martin says. "He's helped me with my anxiety, he keeps me in a good mood. It's hard in here day after day, year after year. It's just been great."
Here's how the training program works: each dog is assigned to 2 offenders. They'll be in charge of teaching the pups. Then the dog leaves for a new home about 2 months later.
"We're training these dogs so they can go in their adoptive homes and know how to sit, stay. They've got manners, they've been socialized with other people, other dogs," explains Shirley Scott, who trains all the dogs at the prison.
The program is run through donations, meaning tax payers don't pay a cent. It's not a new concept, it's just new to Walla Walla. And prison staff say the k-9's are rubbing off on the offenders.
"I've seen behavioral change. I've seen offenders' behavior change," says prison superintendent Stephen Sinclair. "They're definitely invested in this program, and the fact that they're invested and want it so much, that's a huge behavioral incentive to keep them behaving and doing the right thing."
If you want to help volunteer with fundraising, the prison is looking for you! E-mail lyobbagy-finn@doc1.wa.gov for more.
To make a donation to PAWfect CONnections, contact them at:
WSP PAWfect CONnections Accounting Office, 1313 N. 13th Ave., Walla Walla, WA 99362