Four more cases of West Nile Virus make the total 24
Posted:
Updated: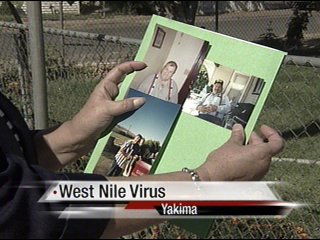 YAKIMA, Wash.- There are now 24 cases of West Nile Virus in Washington. Nine of those cases are confirmed, the rest are pending.
We've all heard it many times, watch out for West Nile Virus, but it's not real until it happens to you or someone you love.
"He collapsed at home and we had to call an ambulance early on Labor Day weekend, he couldn't walk on his own, he was that weak from the virus," said Jeanie Kirby, who's father is a confirmed case of the virus.
Jeanie Kirby says her father is now recovering. She showed us some pictures of him. He is in therapy to rebuild his strength.
"Now he's up to a walker and were thankful for that but the first week or 10 days or so he was really affected," said Kirby.
He is not the only one. There are 24 total cases, nine of them are confirmed and 14 are still pending. With all the mosquitoes out there, this number keeps growing, so it's important to be on the lookout.
"The mosquito bites a person then it gets into the blood stream and the rest of the body, the most severe case is when it gets to the brain," said Marianne Patnode from the Yakima County Department of Health.
Health employees say if you're outside late at night or early morning, it's suggested you wear long sleeves and long pants. On warm days though, this can be hard, so use bug repellent.
"The risk doesn't go away until the first freeze, that freeze kills the mosquitoes so people need to still be very vigilant," said Patnode.
The Health Department will continue to investigate the pending cases. West Nile symptoms include headaches, fevers, nausea and congestion. If you feel some of these symptoms and have a mosquito bite, contact your physician.