Yakima employees look into who should pay for Boise Cascade fire
Posted:
Updated: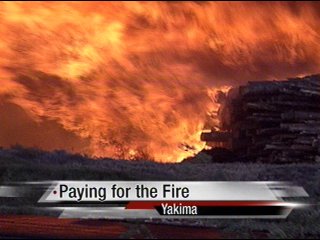 YAKIMA, Wash.- City Employees and firefighters are still cleaning up the fire and figuring out costs at the Yakima Resource mill. People want to know who is paying for all this.
The video from Saturday shows flames, smoke and the power shortage. It was the third fire here in three months, only this time, it took a whole crew of people to control it.
"Every available Yakima firefighter responded on Saturday but we also called in firefighters from other districts and towns...it was a full court press," said Randy Beehler from the City of Yakima.
Two days later, the log mill is shut down. Firefighters are on-site to make sure it does not ignite again. Now, people want to know who is footing the bill.
"It should be the company, I don't think they've been watering it down as much and I drive by it a lot," Said Katlyn a concerned resident.
"If they were meeting code then it falls under city responsibility but if they had not met code then I think it's the company's responsibility," said Kenneth Zahn, a concerned tax-payer.
This is exactly what city employees are trying to figure out. The general rule is the city pays to respond to any fire. In unusual circumstances, the city can recover costs if the fire conditions meet certain criteria.
"One of the key elements is that we're able to demonstrate or show negligence on part of the party we had to provide response to," said Beehler.
If that were the case, this issue could be settled in court.
City employees say they will continue to add the costs up and investigate who should ultimately pay for them.