UPDATE: Police have no leads in gang related shooting that killed 17-year-old
Posted:
Updated: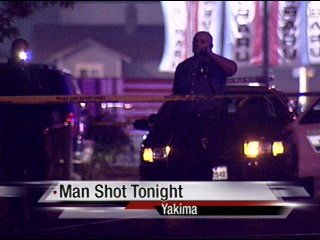 ***UPDATE***
YAKIMA, Wash. -- The sound of gunshots ring out often in the neighborhoods around North 5th Avenue, so often people don't bother to call police.
"Four random rounds popping off, um I mean that's normal around here it happens periodically through time, you're pretty much used to it," said Earl Fanton, North 5th Avenue resident.
But, Tuesday night those gunshots killed 17-year-old Yobane Ortiz. He was hit in the head and upper body, and lay dying on the sidewalk as police arrived. A known gang member, he was shot by someone in a passing vehicle. It happened around nine o'clock.
"We only had I believe just one call of the shots fired, meaning they either didn't hear them or didn't report them because they're used to it," said Sgt. Scot Levno, Yakima Police Department.
Something that makes finding suspects difficult. Plenty of people showed-up to pay their respects today, but last night police had just one witness. All that person saw was a tan colored vehicle.
It's the third homicide within the City of Yakima this year.
Storm Lopez was friends with Ortiz. Last night he's the one who told Ortiz's mother he'd been shot. It happened just blocks from her home.
"She didn't believe me, we had to show her where it was at and everything," said Lopez.
Police shut down North 5th Avenue and combed the area last night. They have little information to work with, a tan colored vehicle and no suspects.
Another shooting in a neighborhood complacent with violence and distrusting of police. If you have any information about last nights shooting call YPD at 575-6200.