Toppenish man convicted of first degree murder
Posted:
Updated: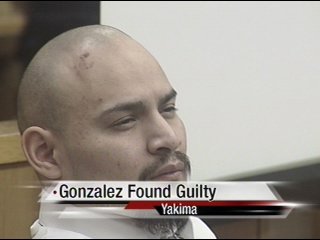 YAKIMA--A jury spends less than two hours deliberating, and comes back with a guilty verdict on a first-degree murder charge.
The trial of Eriberto Gonzalez was hard-fought, but not just between the prosecution and the defense.
The trial should have ended on Wednesday, but then Gonzalez attacked his lawyer and put things on hold for a while.
But, he could only delay the guilty verdict delivered by the jury.
Ezequiel Reyes' family waited two and a half year to hear that verdict, after the 25-year-old was shot to death outside the Toppenish mini-mart where he worked.
All because Eriberto Gonzalez believed his girlfriend and Reyes were having an affair.
During the trial, Gonzalez focused his energies on replacing his lawyer, Adolfo Banda.
On Wednesday, Gonzalez was so upset he headbutted Banda, leaving the attorney with a black eye and delaying arguments until Thursday.
But, Judge Michael Schwab made sure the trial went on.
"The court cannot allow the defendant to subvert the trial and cause a mistrial," Schwab said.
The attack didn't surprise Reyes' sister.
"He's a coward," Naomi Balderas said. "He deserves everything that's coming to him."
While Balderas and her family are happy with the verdict, shedding tears of joy upon hearing the jury's decision, it won't bring her brother back, no matter how long Gonzalez serves.
"He deserves to get life because he didn't spare my brother's life," Balderas said. "Ezequiel would've been here if it wasn't for his senseless thoughts. This was senseless."
Thoughts and actions that leave her eight-year-old nephew without a father.
Gonzalez faces a maximum 39-year sentence, and could face additional charges for assaulting his lawyer and contempt of court.
Gonzalez's sentencing is tentatively scheduled for Wednesday, October 7, at 2:30 p.m.