Disabled tenants have a new home that accommodates their needs
Posted:
Updated: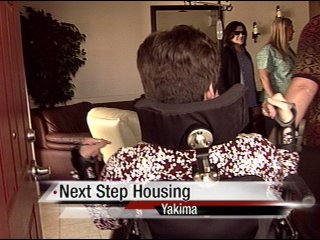 YAKIMA, Wash.- The Department of Commerce donated $3.4 million to build housing for the disabled and people recovering from drug and alcohol abuse.
If you take a look around, you'll notice the units are now home to several people in Yakima. Stephanie Hennessy is one of them. She moved in last month. The building is equipped with her own room and 24-hour staff on site.
"That day was so emotional for me at the end of the day, I felt kind of nervous but excited at the same time," said Stephanie Hennessy, a tenant.
The units opened one month ago and to celebrate tenants took part in a ribbon ceremony. These apartments accommodate people with disabilities. They are built with wide entrances, sinks to wheel around and showers for their wheel chairs, where they can feel at home and move on their own.
"Stephanie can be independent here she feels like she's grown up and she has people to interact that are similar, with similar disabilities so its very good for her," said Diane Landis, one of Stephanie's friends.
"The great staff I have, the support, I have my own room to look at pictures and stuff," said Hennessy.
These new units are the second phase in the Next Step Housing facility. The director said the demand is so high, all the units were leased before the construction was completed.
"We have at any given time a waiting list with about 600 names of people interested in our housing," said Jon Mifsud from Next Step Housing.
The buildings are also drug and alcohol free, available to people recovering from their addictions.
While the directors don't have immediate plans to expand, they say they do have extra space for the future.