Fire on Ahtanum Ridge threatens homes
Posted:
Updated: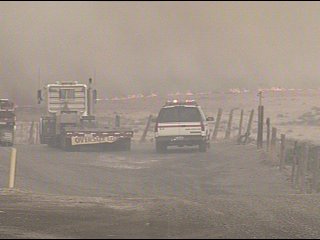 WEST OF PARKER--Firefighters are mopping up a brush fire on Ahtanum Ridge that covered roughly 2,000 acres.
The flames also threatened several homes, some with families still inside. The fire broke out just north of Kays Road around 10:30 Sunday morning.
But, because of 30-mile-per-hour gusts of wind, by the time firefighters got there the flames were already out of control. That led to some scary moments for people living on and near Ahtanum Ridge.
Boosted by heavy brush and heavier winds, firefighters didn't have a chance to quickly put out this fire.
"The fire line grew rather quickly," Chief Brian Vogel, Yakima County Fire District 5, said. "By the time we started getting reports we already had about a quarter mile worth of fire line so."
The first calls came in around 10:30. Less than an hour later, you could barely see twenty yards ahead.
But, there were homes and people on the other side of all that smoke.
"We've had a lot of homes threatened [about six in all]," Vogel said. "We've got units sitting on those houses, the fire's burned past those houses and we're just doing some mild burnout operations around them to secure the area."
One neighbor knew his orchard would be in danger.
"Knowing that the wind was blowing, I came back from town rather quickly."
Redman said he'd been expecting a fire like this. He even cleared out the brush next to his fruit trees to act as a buffer.
That helped out Sunday.
"Fire department was able to use that disked area to start back burns and take some of the pressure off this area."
Firefighters managed to contain the blaze by Sunday evening. Crews will remain on scene throughout the night in case any hotspots pop up.
Firefighters aren't sure what caused the blaze. Investigators will be on scene Sunday to try and figure that out.