Hopp Racing is targeting the Grand Prix World Championship
Posted:
Updated: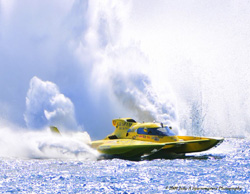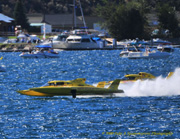 Way back in 1950 a Seattle Auto dealer named Stan Sayres brought a "Strange" looking 3 point hydroplane to Detroit Michigan. The Eastern folks laughed, until this "Strange" looking craft, the Slow-Mo-IV, pounded the Eastern competition and snatched the Gold Cup from the East and brought it back west.
This started a rivalry that lasted for years. It put Seattle on the map as a sports town. Seafair is alive and well today, but it all started back then.
"The Pride of Snohomish" Washington is going to attempt a similar fete.
Hopp Racing's Graham Trucking-Happy Go Lucky-Pumptech (6 time Unlimited Lights National Champion) is going "Big Motor Setup" Grand Prix style to the World Championships in Morgan City Louisiana. Unlimited Lights winningest driver Greg Hopp will take on 9 challengers from back east and Canada.
The "Yellow Rocket" will be on display at Chuck's Seafood Grotto in downtown Snohomish 3-5pm onThursday, October the 8th. Jerry Hopp will be on hand with free action photos.
The trip will be expensive. Sponsorships only cover so much. The Snohomish community is rallying around the World Championship chase. Donations will be taken at the Grotto. At 6pm, the boat will be taken to the other side of town. From 6-11 pm, it's a World Championship send off party at the New Red Lotus off Cypress in Snohomish behind the Rite Aid store.
There will be raffle tickets, racing shirts, racing hats, hydroplane souvenirs, and an auction. Greg, and Jerry Hopp will be there. Live music from the Emory Zone. Steve Mortland from KRKO 1380 Sports Talk will interview the Hopp's between 8-10pm. This is part of the popular North Sound Racing Show.
Then it's off to the Kilo's in Lincoln City, then the World Championship of Grand Prix Hydro in Louisiana.
It took a Seattle auto dealer with aircraft power to "Snatch" the Gold Cup from the Easterner's back in 1950. Greg Hopp, a Boeing Aircraft employee, will try to do it to the Easterner's with automotive power, and bring the World Championship to Snohomish, and Washington State.