H1N1 Process
Posted:
Updated: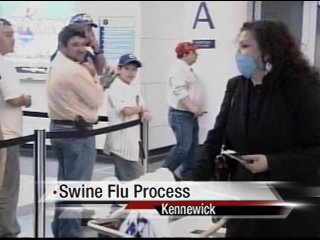 Kennewick, Wash. - Benton and Franklin Hospitals and Clinics are seeing a large number of people with flu-like illnesses, likely caused by the H1N1 virus. Dr. Larry Jecha with the Benton-Franklin Health District says most people with flu symptoms do not need medical care. He says the typical symptoms of the flu are fever, cough, sore throat, body aches and headaches. His advice is to just stay home and stay away from other people.
He says when you have these symptoms the best remedy involves rest, plenty of liquids and taking medicine such as Tylenol. He adds that if Tylenol can't keep your fever down then you may want to contact your health provider, but only if symptoms are severe. "All the hospitals rates are way over normal. They are 20-30% or even higher, more volume. The problem is all these people are coming in for flu, and people with real emergencies can't be taken care of in a expeditious manner," said Dr. Jecha.
Here are a list of symptoms for when to seek medical care. For children: when they have trouble breathing, have a fever with rash, irritable and when symptoms return or get worse. For adults: trouble breathing, pain in the chest or abdomen, sudden dizziness or severe vomiting.
If you have any questions regarding the flu or H1N1 virus you can call the flu line at 460-4FLU OR 460-4358.