G.R.E.A.T. training, another tool to combat gangs
Posted:
Updated: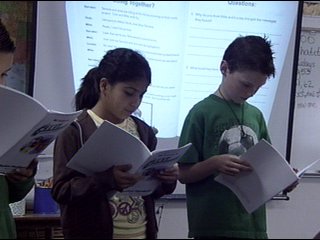 YAKIMA, Wash. -- Extra emphasis patrols, harsher penalties, a gang unit, all efforts to curb Yakima's gang problem. But, there's a lesser known tactic for combating gangs, it's all about prevention and education.
Officer David Cortez has worked as a patrol officer and a gang unit detective. But, he's found time in the classroom to be just as affective.
"There's an 85% chance that the cycle is going to repeat itself if it's not addressed," said Ortez.
Students learn valuable life skills through role playing and an interactive hand book. Gang resistance education and training, shortened to G.R.E.A.T.
"Nicely done actors, take a bow," says Cortez after the student act out a scene.

They're learning skills like combating rumors and gossip.
"You are going to run into things like that in every single school, whether it's elementary, middle school or high school," said Cortez.
Skills that will keep them out of trouble.
"You will not allow yourself to lose your cool," Ashden Creamer, reads aloud from the G.R.E.A.T. handbook.
The students also learn how to control their anger.
"How getting angry can turn out to be big consequences and you can get in trouble," said Jessica Cordero, student.
Acting, questions and discussion help these skills become second nature. They're tools students can use when saying no to gangs.
"If these skills become automatic for them they're gonna automatically make the right choices without even thinking twice about it," said Cortez.
Officer Cortez visits classrooms once a week for the six week G.R.E.A.T. training. He said the reward comes at week six when students pull everything together, he hopes they walk away with this mind set.
"By me making the right decisions in the future it is going to make a difference," said Cortez.