Teen sentenced in killing
Posted:
Updated: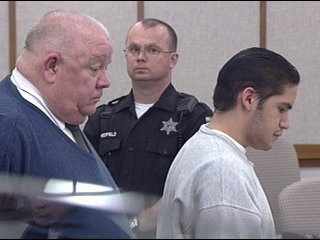 PASCO, Wash-- An emotional day in court for 17 year-old Christopher Ruesga's sentencing in the shooting death of 38 year-old Eutimio Martinez-Vivero.
"He said, 'I know what I did was wrong, and I'm really sorry,'" Ruesga's sister said in court. "He said, 'I just wish I could reach out to other kids and help them so they would not make the same mistakes I did."

"He took somebody's son, somebody's brother, someone's father and I'm just so--my blood is boiling," said Larry Martinez, Eutimio's uncle.
Ruesga will serve 15 years behind bars, a ruling the victim's family says isn't harsh enough.
"It wasn't satisfying to us and I don't know how I can explain it to my mom when I get home," says Maria Cruz, Eutimio's sister.
Police say the killing was the result of a fight between rival gangs. But Eutimio's family says it's just a case of wrong place, wrong time.
"He wasn't affiliated with gangs. He was a family person," says Cruz.
In court Friday the message was clear--gang violence is very real and needs to stop.
"As you could see, Christopher was a good student," says Franklin County Prosecutor Steve Lowe. "He got into drugs and alcohol and then the gang lifestyle and unfortunately for him and his family, he's going to spend a lot of time in prison now."