Battle for votes on Referendum 71 heating up
Posted:
Updated: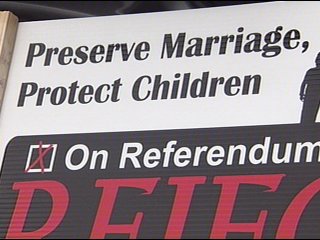 YAKIMA--Election day just a few weeks away, and different sides are squaring off one more time for votes.
Here in Yakima, Referendum 71--the domestic partnership bill--is taking center stage this weekend.
Supporters of R-71 are holding a concert Friday night to get their side out, while one local group opposing the bill plans to start canvassing in preparation of their own event.
The Unitarian Universalist Church at 225 North Second Street is hosting a concert and forum Friday night.
They hope to convince people still on the fence. Meanwhile, R-71's opponents will be out this weekend doing the same thing.
Skip Schoff is one of those opponents. He told KNDO this "Everything but Marriage" bill will destroy traditional marriage and endanger children. R-71's supporters disagree.
"Children are better off being raised with a home," Schoff, the Vice President of Christian Broadcast, said. "[They need to be] with that base family unit with a mother and a father."
"To have your parents be separated legally and socially as not being a normal family, is very devastating to a child," Rob Sherwood, member of Approve Ref. 71, said.
Friday's free concert kicks off at 7:30.
The Washington Values Alliance has a Tea Party planned for Thursday, October 15, at 7:00 p.m. in the Yakima Convention Center. It will feature several speakers who are against R-71.