Freezing temperatures destroy apple crops costing millions of dollars
Posted:
Updated: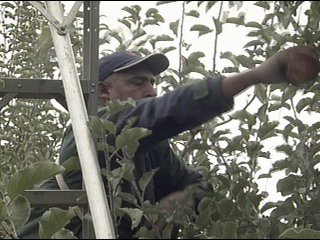 WAPATO, Wash.- Temperatures are dropping fast, for apple growers, that could mean losing millions of dollars. Growers say the frost will destroy thousands of acres of apples.
Hermin Hernandez works at the Marquez Orchards picking apples, filling bins, and moving them to storage. It's not an easy job but Hernandez says it's what pays the bills.
"Pretty tiring, it's too much pressure for your body but there's nothing else to do," said Hermin Hernandez.
With a freeze on its way, workers are definitely feeling the pressure and so is owner Sergio Marquez.
"Tomorrow it is supposed to be really cold the temperature is supposed to be 22 24 degrees so if that happens we won't be able to pick any more fruit," said Sergio Marquez.
The focus is on Fujis, the most expensive apple Marquez has. Workers are hoping to pick about 360 bins to recover more than $100,000 worth of apples
"Never in 16 years we've been in this position where we have to be in a rush to pick up all these apples,"
Marquez is hoping they'll have the weekend to pick the rest of the orchards...but in this business...he says you can never really plan ahead.
"Every year there are challenges, as a farmer we really don't like to gamble but we gamble every single day," said Marquez.
This year that gamble depends on the weather. If the orchard freezes, employees will be done for the season, a month earlier than they were hoping for. And hiring more people to help out just wouldn't be worth it.